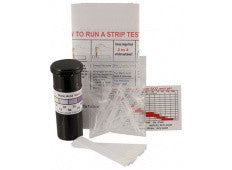 Accuvin Malic
Test kits from Accuvin are easy to use, and easy to read. Everything is included with the kits. Follow the easy, illustrated instructions, compare color of test strip or test tube with color chart for test result, then throw away used items. When all tests are used, throw the kit away!

The Quick Test Malic Acid test kit monitors the decrease in malic acid from 500 mg/L to 30 mg/L, indicating the completion of malolactic fermentation, No color indicates a malic acid concentration at or near 0 mg/L.

The Malic Acid Test Kit includes 10 tests in a black barrier tube with a color chart label, 10 samplers, and illustrated how-to-run test instructions. The insert includes a Summary Interpretation explaining how to use the test results. A monitoring chart is included. The label with the color chart is on the front of the kit.
---
We Also Recommend
---