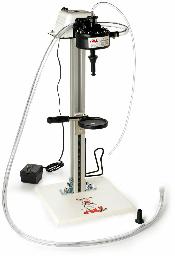 Bottle Filler Fill Jet
Developed to make your wine filling needs easier, the Buon Vino Fill Jet electric bottle filler is capable of filling a 750mL wine bottle in just 17 seconds. Its specially designed tapered tip cascades wine into the bottle, and the pump is self de-activating to help prevent overflows.
This portable system can be used anywhere, and with its self-priming pump and quick loading mechanism it is fast and easy to use.
Technical Specifications:
self-prime pump/motor
filling time: 17 seconds per 750mL bottle
accomodates 375mL, 750mL, and 1L bottles
dimensions: 100 cm (height) x 65 cm (length)
---