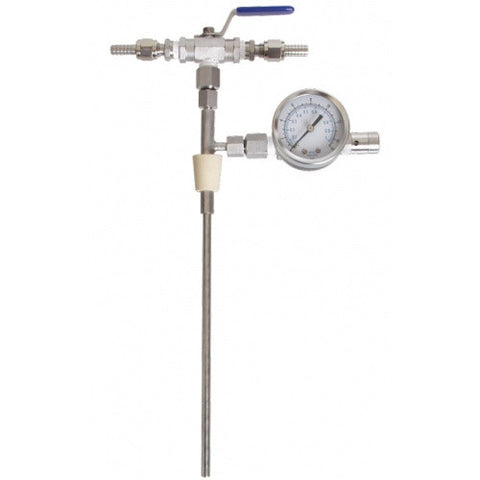 Counter Pressure Bottle Filler
Beer barb is 1/4". Gas barb is 5/16".
The gauge allows you to know the pressure in your bottle.  The flared connections allow for easy cleaning as you can connect on or disconnect your lines in a matter of seconds.
All Stainless Construction (except for a brass backing on the pressure gauge)
A true Counter Pressure Filler (for less foaming)
Easy to use Stainless 3-way ball valve on top
Adjustable Stainless pressure release on side
Flushes bottle from the bottom not the top
What is a Counter Pressure Filler? If you currently carbonate and store your homebrew in kegs, you can use a counter pressure filler to bottle beer directly from your kegs. One huge advantage of this method is that since you are bottling already carbonated, clear beer, there will be no sediment at the bottom of your bottles.

Counter pressure filling is how a brewery bottles beer. The bottle is under pressure while the carbonated beer flows in. Because the interior of the bottle is pressurized there is minimal loss of the CO2 in solution. The opposite of filling under pressure is when you pour a beer into a pint glass where CO2 erupts out of solution creating all that foam. Great in your glass but not good when you are trying to bottle carbonated beer. Our counter pressure filler mimics a single filling head on a professional bottling line, a concept that we all know works very, very well.
---
We Also Recommend
---