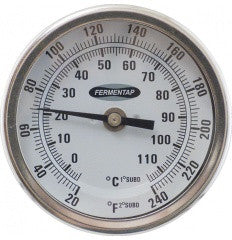 Dial Thermometer, 3" Face x 2.5" Probe
These thermometers have a 3" face, a 2.5" probe and a 1/2" MPT on the back.  If your kettle already has a 1/2" FPT port, then just add teflon tape and install.
If you don't already have a port, you can purchase our Weldless Kit for Kettle Thermometer, and install it to any brew kettle.
---
We Also Recommend
---