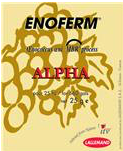 Malolactic Bacteria, Alpha
Enoferm Alpha shows good fermentation activity and provides a positive sensory contribution. 
Alcohol tolerant to 15.5% (v/v) and low temperature tolerant to 14ºC(57ºF).
Alpha is a dominant strain and shows good resistance to botrycides.
It is often described as enhancing mouthfeel and complexity while reducing perceptions of green and vegetative characters.
---
We Also Recommend
---