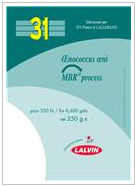 Malolactic Bacteria, MBR 31
Performs well even under stressful conditions such as low pH (3.1) and low temperature (greater than 13ºC/55ºF).
Known for its positive sensory characteristics. In reds, it may increase berry fruit flavors and mouthfeel. In whites, it is known for light buttery flavor, respect for fruit, increased body and length of finish.
It may be slow to start but finishes quickly.
---
We Also Recommend
---