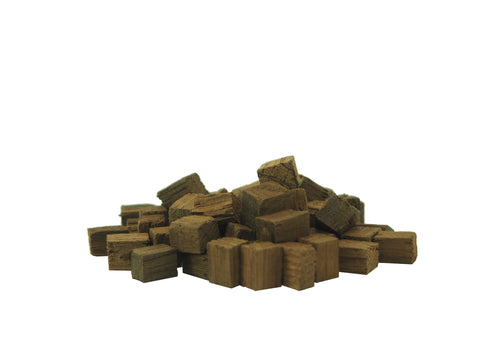 Oak Cubes - American Medium Plus
Oak cubes are our preferred method to add oak flavor.  Compared to other oak alternatives, they provide the best control and flexibility to add flavor and tannins to your beer, wine or spirit.  The thickness of the cubes and the slow toasting process created the same traditional flavors found in the production of fire toasted barrels.  The cubes slow extraction creates more complex barrel flavors.
Cubes can be added directly to carboys or small barrels.  Full extraction is achieved after 6-8 weeks of aging.
Use 1/2 oz. to 2 oz per 5 gallons.
Remember the golden rule of oak:  You can always add more oak, but you can never take the oak out.  So be conservative with your oak additions.  Taste your beverage after 6 weeks, and then add more oak if you have not achieved your desired flavor level.
American Medium-Plus Toast provides complex, pleasant and well defined toasted oak characters and aromas of vanilla, toffee, butterscotch, chocolate, coffee, mocha, graham cracker, with a touch of coconut, cinnamon, nutmeg and clove. The flavors provide sweetness, creaminess and roundness to the mouth feel with a lingering pronounced toast character.
---
We Also Recommend
---