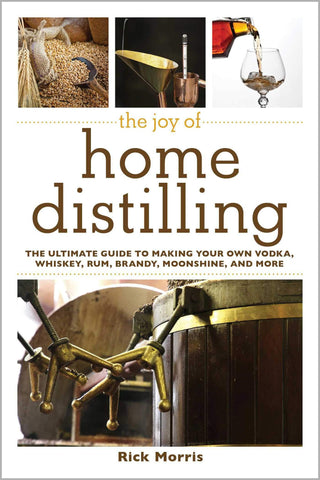 The Joy of Home Distilling
The Joy of Home Distilling covers nearly every facet of distilling:
Step-by-step instructions for the different processes, from bucket to bottle

The difference between spirit types and how to produce each

What yeast is, what it does, and how to ensure that you get a strong, complete fermentation

What distillation is and common misconceptions about the process

Legalities surrounding distilling alcohol at home

Carbon filtering—when it's necessary, when to filter, and why you filter

Flavoring and aging your spirits

Keeping safety first when working with flammable materials, such as ethanol

Yeast styles and nutritional requirements

Different methods of distillation and equipment

Post-distillation process

And of course, fun drink recipes! (Try the Mudslide or the Cherry Bomb!)

Author Rick Morris, who has been selling distillation equipment for over 25 years, even includes his own recipes for different types of spirits and drink recipes. By learning not just how to distill, but also what is happening at each step and why it is needed, readers will be armed with the information they need to experiment with their own spirits and concoct their own recipes. Easy to understand even for a first-time distiller, The Joy of Home Distilling is sure to become your number one distilling resource.
---