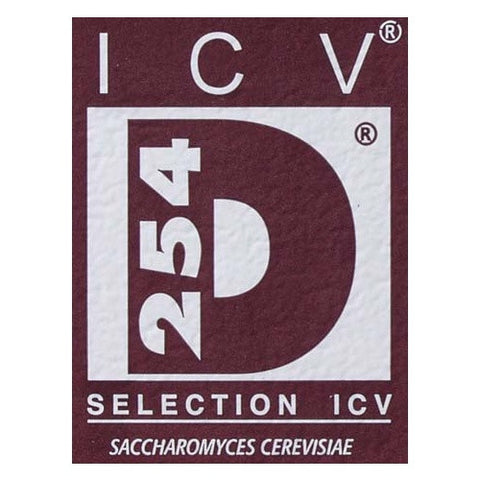 ICV D254
Recommended for Cabernet Sauvignon, Syrah, Zinfandel, Sangiovese, Chardonnay, Barbara, Cabernet Franc, Grenache, Malbec, Merlot, Nebbiolo, & Tempranillo.
It has been known to have an alcohol tolerance of up to 16% (v/v) when the fermentation is aerated and the temperature is maintained below 28°C(82°F). 
In red wines, Lalvin ICV D254 develops ripe fruit, jam and cedar aromas together with mild spiciness. On the palate it contributes high fore-mouth volume, big mid-palate mouthfeel and intense fruit concentration.
When used for white wines (particularly Chardonnay), sensory descriptors include butterscotch, hazelnut and almond aromas.
| | |
| --- | --- |
| Alcohol Tolerance | 16% |
| Relative Nitrogen Needs | Medium |
| Temp. Range (F) | 54-82 |
| Fermentation Speed | Moderate |
| Competitive Factor | Neutral |
| MLF Compatability | Very Good |
---
We Also Recommend
---